Lasarte Barcelona, a 3 Michelin Star Restaurant
Our famous chef is one of the top chefs in the world and holds 12 Michelin Stars in total, more than any other Spanish chef.
One year after it was opened, in 2007, Lasarte Barcelona was awarded the first star in prestigious Michelin Guide and in 2010 our restaurant obtained the second star. Michelin Guide 2017 awarded Lasarte Barcelona with a third Michelin star, making the restaurant and absolute must-go for food lovers from all over the world.

After a full renovation carried out recently, the new Lasarte Restaurant got a distinctive touch, becoming more spacious, bright and modern.

The rehabilitation project has been leaded by architects Oscar Tusquets, Carles Bassó and Tote Moreno and interior decoration is signed by interior designer Mercè Borrell. The emphasis on light, textures with dominance of oak and selection of furnishings have been the mainstay of the entire project to give the restaurant a unique personality.

Lasarte Restaurant features a semi-private room in the main dining room and a second private dining room, called the Chef's Table for up to 8 people -located in a loft over the kitchen with glass wall that allows our guest to follow on all staging and creativity of the dishes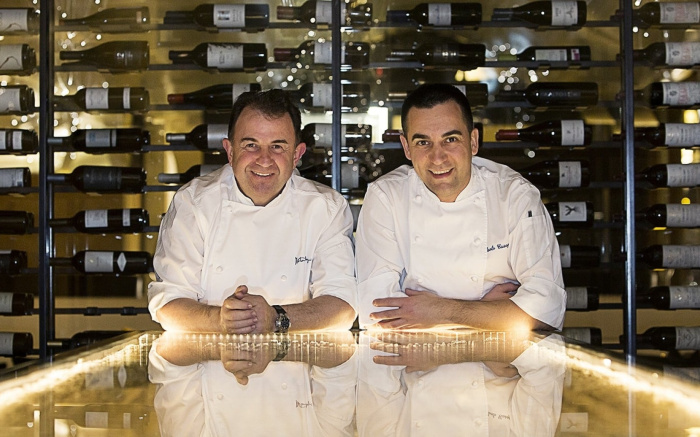 Open from Wednesday to Saturday
Lunch from 1.00pm to 2.30pm
Dinner from 8.00pm to 9.30pm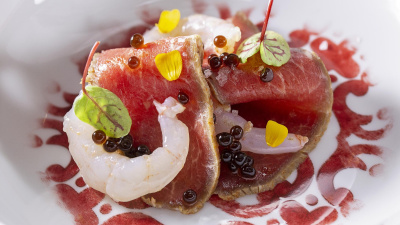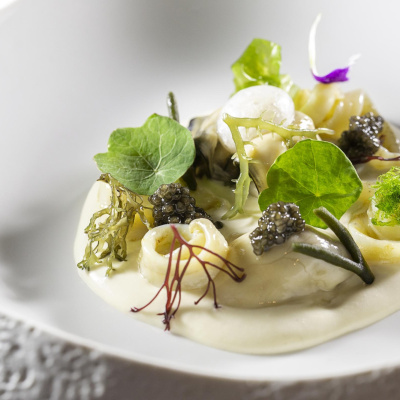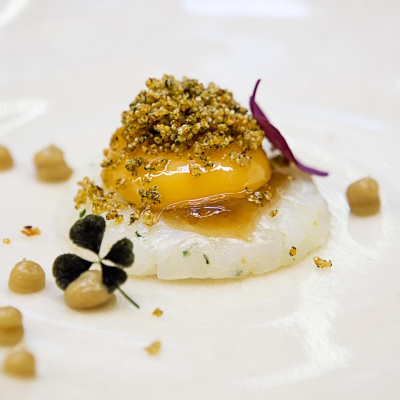 According to the Michelin Guide itself, one star signifies "a very good restaurant", two stars are "excellent cooking that is worth a detour", and three stars mean "exceptional cuisine that is worth a special journey"... and this is Martin Berasategui 3 Michelin Star Restaurant in Barcelona, a restaurant worth the journey to one of the most exciting and cosmopolitan cities in the whole Europe.

It's surprising how the numerous ingredients of the Lasarte Restaurant dishes balance each other until they achieve excellence. There is no shortcut to excellence, you need to put hard wok and talent, which is exactly what our chef de cuisine, Paolo Casagrande, and Martin Berasategui put on every detail at Lasarte Barcelona.

The standout style of Lasarte Barcelona seems to be the beautiful artistic painting-like arrangements of the food on the plate. An amazing culinary experience by chef Paolo Casagrande worth the 3 Michelin Stars.

Decorated with little petals and green, accented with glossy liquid splatterings, each plate at Lasarte Restaurant in Barcelona is like a beautiful work of art. And the end result of tasting the food and enjoying the views from different perspectives is just marvelous.

The restaurant is located in the ground floor of the Monument Hotel, one of the best Luxury Hotels in Barcelona City Centre, and has recently experienced a full renovation leaded by famous architects Oscar Tusquets, Carles Bassó and Tote Moreno.

Indulge yourself with an experiment journey on taste and visual satisfaction, order the Tasting Menu with wine pairings and enjoy a dining experience like no other at Lasarte Restaurant in Barcelona.